CASE STUDY
Northern Energy
"They've got great customer service, they've got a great attitude and they've got a great system."
---

2018-11-19T09:17:28+00:00
Stuart Illingworth
Operations Manager, Northern Energy

"They've got great customer service, they've got a great attitude and they've got a great system."
https://dreamtecsystems.com/testimonials/northern-energy/

Northern Energy is a family-owned, fourth-generation oil and LPG distributor based on the edge of the Yorkshire Dales. Serving communities across Northern England and Scotland, the company was founded 86 years ago by Ralph Robinson, the grandfather of the current managing director.
| | |
| --- | --- |
| Distribution Network: | Northern England and Scotland |
| Fleet: | 36 vehicles, 4 depots |
| Integration: | LC TE550 and MechTronic Flow Meters and Codas ERP |
The Challenge
Like many of our customers, Northern Energy had reached a point in its development where growth management was rising to the top of the agenda. To maintain and improve current levels of performance and customer service, management began to look for a system that would enable real-time visibility over the entire fleet.
Specifically, Northern Energy wanted a solution that would not only allow fleet tracking but also stock monitoring. This type of insight into delivery activities and trends would give them the tools they needed to make informed decisions, to grow in an agile, sustainable and controlled way and to enhance their customer service offering.
"It drives decision-making . . . so we're able to improve driver performance and improve efficiency, which in effect improves the bottom line."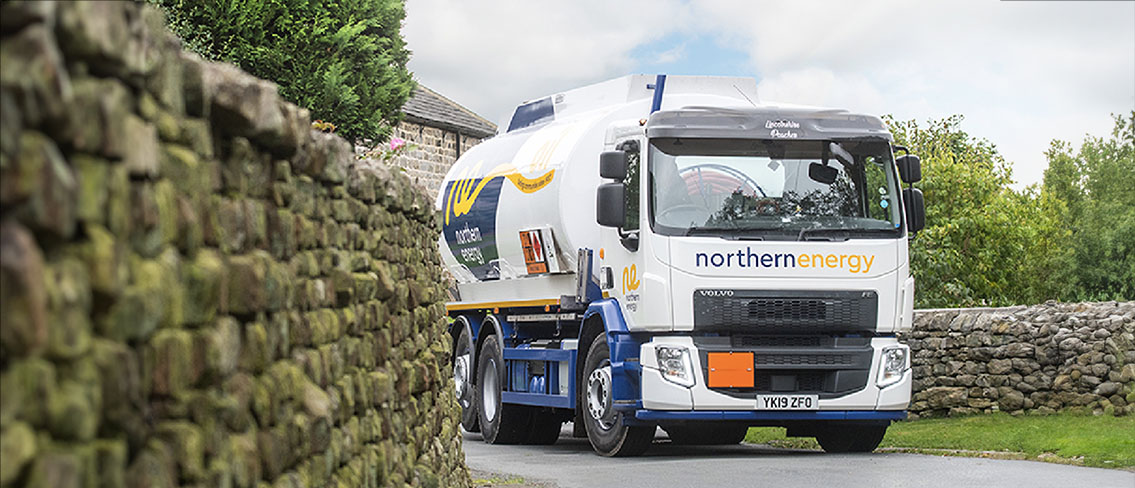 The Solution
Having identified two systems that potentially fit the bill, Northern Energy trialled both for three months. DreamTec Command's meter tracking won out in terms of reliability and the low-risk, well-priced nature of the system finally clinched it for Northern Energy. Meter tracking was swiftly installed across the fleet and integrated seamlessly with the LC TE550 and MechTronic flow meters.
The success of meter tracking and DreamTec Systems' impressive customer support gave Northern Energy the confidence to progress to mobile fleet management. The company could see that this move would bring even greater efficiencies and boost customer service. As a due diligence measure, Northern Energy trialled DreamTec Command's mobile fleet management against another system on the market, both of which were capable of integrating with its ERP, Codas. After two months, DreamTec Command was the unmistakable leader and, following further planning and bespoke configuration, the system was rolled out across the fleet.
"I would say DreamTec Systems' biggest strength is its attitude towards innovation, the willingness to develop the product and not just give you an out-of-the-box solution. They'll listen to any ideas, they'll really push forward themselves and they'll be very proactive in the development of it."
The Results
By choosing a system that monitors both fleet and stock in real time, Northern Energy has been empowered to elevate its standards of customer service and productivity. The live data presented by DreamTec Command gives the team a complete picture of vehicle and stock movements throughout the day and allows for instant redeployment of resources based on location and onboard stock levels. Same-day orders can be sent to drivers electronically without disturbing their workflow. Troubleshooting is simplified and the team can proactively manage customer accounts in a professional and organised manner.
Knowing where each vehicle is and how much fuel it has on board, at any time throughout the day, enables quick decision-making and speedy resolution of customer queries. Independent meter stamping and electronic processing of transactions have also improved billing accuracy and allow for faster invoicing of completed deliveries. The system has been so successful, that Northern Energy has now introduced it across its sister LPG company.
"At the start, the return was less headcount on the admin side; it offset the cost of the investment. But actually, what we found is we have improved efficiency in our routing, the customer service aspect."
System Highlights for Northern Energy
– Live overview of all stock and fleet movements.
– Identification of performance trends that enable informed planning and business development.
– Improved driver productivity and better resource allocation.
– Enhanced customer service levels and more proactive account management.